In order to make your life easier we offer you a brand new ticketing system! You can now change your ticket information as you want, whenever you want, without fee, from your Runner account. Moreover on this account you can manage your team and invite friends to join.
Discover all these new processes in this guide.
GENERAL INFORMATION
What does MUDGIRL consist of?
---
MUDGIRL is an all inclusive, 5km (about 3 miles) race, consisting of 17+ obstacles to overcome.

Whether you are by yourself or in a team, the course is committed to testing your strength, endurance and above all, your spirit.

There is no timing and no obligation to complete all the obstacles. You are here for the sole purpose of having fun and having a great experience, regardless of your athletic ability.
---
Is MUDGIRL open to everyone?
---
Yes, all women between the ages of 7 to 78 (a record to beat!) are invited to participate in MUDGIRL.
The short running distance makes this challenge achievable to all levels of athletes.
You don't have to run, as long as you are enjoying yourself, it doesn't matter if you run, walk, or take a break. Important: We ask that all young ladies are a minimum of 7 years old by race day to participate in a MUDGIRL experience.
---
I'm not such a runner, can I still participate?
---
This race is an introduction to obstacle courses and aims at combining athleticism and fun.
Many of our participants are not very sports oriented, however, they really enjoy themselves at our race! We promise, you will love your experience at MUDGIRL.
---
Why should I leave my comfort zone and participate in this race?
---
Whether it's a personal challenge or a friend convinced you to embark on this journey, you are here for a noble cause: the fight against breast cancer.
Therefore, you will surpass yourself, sweat, have a few (small) aches, and finally, raise your arms when you cross the finish line... as part of the #PinkArmy!
We can promise you that when the medal is around your neck, you will feel like the proudest woman in the world. But before that, you will have to face the mud and the big slide! Hence, there is no excuse to turn around on race day. Leaving your comfort zone and conquering this race with your friends will create memories for a lifetime!
---
Do I need to know how to swim?
---
Nope! Some obstacles may have 2-3' deep water but the majority are just mud. If you don't feel comfortable, you can always go around the obstacle.
---
I have the COVID symptoms or I have been in contact with someone positive. What should I do?
---
If you test positive for Covid-19 within 14 days of the event day, or if you have been in contact with someone else who tested positive within 14 days, we obviously ask you to stay home and not participate in the race. In case you had been in contact with someone positive, please know that at the moment CDC says stay home and don't even get tested.

In order not to lose the value of your ticket, please send us the positive test result by email to info@sport-era.com, and let us know which of these two options you prefer:

- A free name transfer to register someone else in your place.
- A coupon valid for a year to enroll in any future MUDGIRL experience.
---
Are men allowed to run?
---
The world of obstacle racing is traditionally a very masculine sport. This situation can be intimidating for women who are starting in the sport. Thus our run adheres to the following mission statement: MUDGIRL is an enjoyable and accessible experience for all women to feel empowered and comfortable amongst their girlfriends and girl squads. The goal of our event is for women to share a joyful day with friends while raising funds for a foundation fighting against an important cause to help women: breast cancer. :) We decided to make it a women's race as we wanted to see if offering a safe space for women would help promote female participation in obstacle racing. Our results so far suggest it does. Our obstacle courses have been quite successful, suggesting to us that perhaps a women-only course is a step in the right direction of promoting or initiating more female participation into the world of obstacle courses. Thus, though the race is open to all genders, each registrant must decide whether their participation helps to achieve the mission of a safe space for people who identify as female to compete. We will not deny anyone access to the race and leave it up to each registrant to make their own determination about whether it is appropriate for them to participate given the aforementioned mission. Please understand that this project was not created to sideline men, but rather to allow women to experience a personal and doable challenge. We obviously encourage men to come support their loved ones to help them feel empowered, challenged, safe, and accomplished. We also encourage men to volunteer. We firmly believe that men and women should work as allies for equality in all domains, including the world of sports. At the end of the day, the volunteers, all gender alike, can participate in the volunteer run, and it's actually free too! Please consult our volunteering page here.
---
Where can I find a MUDGIRL community to exchange about the run?
---
On and off the race the Mudgirls are a real Pinkarmy ready to help themselves!
Whether you have a simple question, some doubts, the wish to get an opinion from a former participant, to know a little more about how to prepare for this race... whatever your question is, the whole MUDGIRL Community is here for you on this Facebook page.
---
What is happening to my 2020 unused ticket?
---
The full value of your 2020 ticket (fees & taxes included) is represented by a coupon code which has be sent by email to all 2020 tickets holders on January 6th, 2021. If you haven't used your code to attend one of our 2021 events, you can still use it to register for an event in 2022. However, those codes won't be valid anymore after the 2022 events season.
---
I want to watch the race where can I purchase some tickets?
---
Spectator tickets are purchased at the venue. The cost is $10. There will be a spectator tent next to the registration line. You can pay by card or cash for the spectator fee, it is free under 16 years old 🙂
---
---
REGISTRATION
What is the minimum age to participate?
---
For safety purposes, the minimum age to participate is 7 years old. Participants between the ages of 7 and 13 years must be accompanied by an adult for the entirety of the race. Important: We ask that all young ladies are a minimum of 7 years old by race day to participate in a MUDGIRL experience. Under this age the system won't allow you to register.
---
Can I buy my ticket the day of the event?
---
Yes, If the event is not sold out you will be able to buy your ticket on site. However, the ticket will be full price. So we stroooongly advise you to sign up early to save a lot of money. :)
---
Can I change my time slot? My event date?
---
Nothing always goes as planned, we got you! You are now able to change your ticket details such as the wave time (for another one with remaining spots), the attendee name or even the event date. Find the instruction details in this document.
---
I am signed up but can no longer go to the race, can I receive a refund?
---
Tickets are non-refundable as stipulated in our sales conditions.However, you do have plenty of options! From your Runner account you are able to change your ticket info such as the attendee name (and have somebody else running with your ticket), you can as well transfer your ticket to another event of the season. We don't want you to loose this registration. :) Find the instruction details in this document.
---
I can't find my ticket, how can I get it back?
---
You can retrieve your ticket whenever you want in your account. Find the instructions details in this document.

All tickets are automatically sent again to the attendees email address ten days prior your race.
---
How and where can I sign up for MUDGIRL?
---
All registrations are done online at mudgirlrun.us. Our prices increase as we get closer to the dates of events, so the earlier you buy your ticket the lower your price will be. If the event is not sold out, tickets will be sold on site the day of the race. The ticket will be full price.

---
What is included in my registration?
---
Seeing as you will be joining the #PinkArmy, we can't let you go face first in the mud empty handed!

All participants will receive: a headband, a bracelet, a race bag, a reusable water bottle, temporary tattoos, access to the water station, photos from a professional photographer, and most importantly, a medal at the end of the race to congratulate you for your effort!
---
Where and when can I pick up my race kit?
---
You will be given a race kit right after checking-in on the day of the event.
---
Is there a group offer?
---
MUDGIRL is first and foremost based on family spirit. The team spirit. It's an experience to live and share WITH others.

To encourage you to participate with your sports team, entire family, your workmates, or your classmates we offer 10% off to groups of at least 10 persons, and 15% off to 20 persons and more.

The discount is directly applied to your order depending on the number of tickets you order.
---
First responder, veteran, military on service discount
---
We are proud to offer you a 15% discount ! It's not much, but we would love to show you at least some gratitude. Please contact us with your professional ID card (first responder or veteran ID card). For the military on service discount, please send your "proof of service letter" since you are not allowed to share a copy of your military ID.
---
I am pregnant, can I still participate?
---
The only advice given by our company is to ask your family doctor for a professional perspective. And of course follow it. :) We do not prohibit pregnant women from participating. However this is an obstacle race, there are obstacles to climb, crawl, and the mud can be slippery, so a fall can happen pretty quickly. In case you're pregnant and decide not to attend, please contact us here
---
How can I join a team / Can I change my team name?
---
You can create a new team when placing your order, and invite your friends to join by clicking on "Invite Friends to Join" . You can also invite your friends at any time, from your runner account, by clicking "Invite friends to Join". You can join an existing team when placing your order, by selecting your team under the "Select Team to Join" field. Please make sure to select the same time wave as your teammates so you'll all run together. Please note that you can't change the name of a team once it has been created.
---
---
RACE DAY
What steps should I take before the start of the race?
---
We ask you to arrive 45 minutes before your start time indicated on your ticket.

Below are all the steps to follow:

> Arrive maximum 45 minutes before your wave start time already dressed for the race

> Park your car in the private parking lot provided for the event (contactless payment available, or cash). Some venues offer a "carpool" discount if you are 4 or more in one vehicle . Please check details on the "more info" section of your event.

> Check in and show your electronic ticket along with your ID card

> Discover the Village, its shop and partner booths. You can leave your personal belongings in the provided bag drop area ($)

> Head to the the start line to warm up > Throw yourself into the MUDGIRL EXPERIENCE!
---
How should I dress when going to MUDGIRL?
---
Before anything else, check the weather… you won't enjoy running in shorts and a tank top under heavy rain or cooler weather! Dress according to the weather and to your personal liking, but keep in mind that you will be covered in mud.
What to bring:
> Running shoes that you aren't afraid to get dirty.
> A pair of shorts and a t-shirt you're ok with having to wash a couple times before being able to wear again.
> A change of clothes for after the race (very important for the survival of your car seats)
> Your biggest motivation and smile!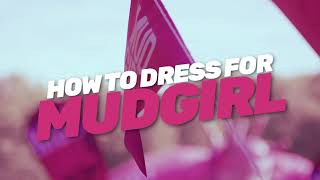 ---
Is there a parking on site? Do we have to pay a fee?
---
Yes there is always a parking on site or near the venue (with shuttles to take you back and forth). There is a fee for the parking. Parking price subject to change depending on location, see details on the page for the city you're racing at, and the email with pre-race instructions sent 1 week before your big race Some venues offer a "carpool" discount if you are 4 or more in one vehicle. The fee to park RVs is $25. All payment methods are accepted.
---
Where can I find my pictures after the race?
---
We post links to the pictures on Facebook a couple days after the event.In the week following your event, the full album will be uploaded on our photographer's website: Epic Action Imagery. Please allow at least 3 days after the event for all photos to be uploaded online.
---
Is there a medical team on site?
---
A medical team is present at each event to provide first aid to all participants and help with minor injuries.
In the event of serious injuries requiring hospitalization, we will call for an ambulance.
---
What will happen if weather conditions are very bad?
---
We reserve the right to cancel or push back the race only in the case where extreme weather would compromise access to the security and safety of participants. In regard to lighter weather, a little rain has never hurt anyone, in fact you will be able to enjoy more mud! We will keep you informed by email and on the website if the event is postponed.
---
Is the race timed? How long does the race take?
---
No the race isn't timed, we try to eliminate any competitive spirit from MUDGIRL. On the other hand, no one will prevent you from showing off to all your close friends and family that you are the most badass of the group by arriving first! It should take you between 40 - 90 minutes to complete the race. However, don't put pressure on yourself to finish within a particular time frame, just have fun and go at your own pace. :)
---
If I can not overcome an obstacle or am afraid to, can I still participate?
---
We do our best to offer fun obstacles that are easily accessible to all! However, if you don't feel comfortable doing a particular obstacle, you can skip it and continue the run. We do challenge you to come back the following year and overcome the obstacles you skipped though!
---
Are there showers on site?
---
Rinsing stations (water hoses with a nozzle) will be at your disposal to quickly get rid of the mud. However, you will have to wait to get home to enjoy a nice warm bath.

A changing room will also be available. We recommend bringing a clean change of clothes, and a large trash bag to place on your car seat as it's hard to remove 100 percent of the mud at the rinse station (and it's even harder to remove any mud from your car seats!)
---
What type of ID do I have to bring?
---
A picture of your ID will also work.
---
Can I bring my dog?
---
We all love dogs, but this race environment is out of the ordinary and it's hard to predict your dog's behavior. For safety reasons, we cannot accept dogs at our events, even leashed. Thank you for your understanding.
---
Can I park my RV ?
---
You can park your RV in the parking for $25.
---
Is there a MUDGIRL shop on the festival?
---
Yes! You'll be able to get our MUDGIRL merch in our shop on the event. You'll be able to find the new collection, exclusive goodies, and even our iconic pink tutus!
---
---
VOLUNTEERS
Why volunteer for MUDGIRL ?
---
Above everything, you will experience an exceptional and unforgettable day! You will get to live the event from the inside out and be apart of the MUDGIRL team. You will deserve all these benefits after waking up early on a weekend and after smiling all day: - A MUDGIRL shirt - A full runner kit - A light meal (breakfast, sandwiches and snacks) - The opportunity to run the volunteer run for free at the end of the day and receive a MUDGIRL medal! - A free future MUDGIRL race - A 40% discount at the MUDGIRL shop
---
What will I be doing during my volunteer day ?
---
MUDGIRL offers a variety of positions where volunteers can enjoy and spend a wonderful day. EVERYBODY is welcome to volunteer: no training or diploma is required. This day will bring you as much happiness as you will give to the participants! Positions are assigned in the morning of the run in function of the needs and number of volunteers present. No worries, we give special attention to those who come in groups. We do our best to keep them together as much as possible, and will never force a volunteer to be in a position they don't want to be in.
---
As of what age can I become a volunteer ?
---
Everyone above 7 years old is welcome to volunteer! • Volunteers between 7 and 14 years old are encouraged to participate. For safety reasons, these courageous volunteers are obligated to be accompanied by an adult throughout the entire day. • Volunteers between 14 and 18 years old must have an authorization letter signed by a parent or a legal guardian. However, this adult is not obligated to be present the entire day.
---
Can I become a volunteer and participate in the run ?
---
YES! At the end of your volunteering day (usually around 3:30pm), we reserve a special wave for all our volunteers who wish to run. You're lucky: no waiting at obstacles, plenty of mud, the MUDGIRL course is entirely yours! This is your well deserved reward for this tenacious day of efforts! You are even allowed to go down the big slide twice ... but shh that stays between us!
---
How to register as a volunteer ?
---
You simply have to use our registration platform by clicking the following link. You will then receive a confirmation around 2 months before the event with all the important and necessary information. Our volunteer coordinator will be in contact with you until the day of the event.
---
I am a man, can I become a MUDGIRL volunteer ?
---
Gentlemen, don't think you can free yourself from your wives, girlfriends, or friends all day so easily! OF COURSE you can join them and encourage them while participating as a volunteer. It's also a great way to support an important cause: Fight against Breast Cancer. Also, as a MUDGIRL volunteer, you will have the chance to run in the volunteer run at the end of the day!
---
I want to participate as a runner, but become a volunteer the rest of the day, is this possible ?
---
Wow! A real MUDGIRL filled day from start to finish! You're full of energy!! Yes that is possible, still there are some rules to follow. • You will not be able to obtain your free race on the same day you volunteer. If you want to participate in a wave during the day, you will have to buy your ticket like any other runner. You will still be able to obtain your free race for another one of our events (for a different date). • It is MANDATORY to participate in either the first wave of the day (and volunteer after you run), or during the last wave of the day (to volunteer before your race). • You will also have to arrive on the event site at the same time as all the other volunteers (early morning) to receive your instructions for the day, the MUDGIRL kit and your meal. • You will have to warn us in advance, so that we can organize ourselves accordingly.
---
How can I use my free future race ?
---
Your volunteer day automatically gives you a free pass to run the volunteer race at the end of the day (starting time will be given during the day but is usually around 3:30 pm) but that's not all! You will also receive a coupon code to obtain a free ticket for a future MUDGIRL run. The code will be given to you at the end of the day in exchange of your volunteer bib. You can use the code to obtain a future free race for yourself or offer it to the person of your choice. Please know that to obtain this coupon code, you will have to volunteer for the entire day.
---
What is the volunteering schedule at MUDGIRL ?
---
All of the MUDGIRL volunteers must arrive at 7:15am (at the latest) to receive the instructions necessary for their day of volunteering. The day usually ends around 3:00pm depending on the race time of the last participants.
---
Do I have to be present for my entire volunteer shift ?
---
Yes, in the hopes of providing a safe run for all the participants, we ask all volunteers to stay from the beginning of the day (7:15am) up until the end (around 3:00pm). Please make sure to only commit to a shift that you are able to complete, if you have any special constraints, don't hesitate to contact us at: volunteers@sport-era.com. We will be more than happy to answer any of your questions!
---
Can I request to have the same role as the person(s) with whom I am coming to volunteer ?
---
Role assignments will be given out on the morning of the run. Yet, we pay close attention to volunteers who come in groups to make sure they are placed close to each other. We also never force a volunteer to be in a position in which they do not desire to be in. We want to make sure you have the best day ever! So don't wait too long, reach out to all your contacts in your phone, all your facebook friends or instagram followers and come spend an unforgettable day!
---
Will volunteers get pictures?
---
There won't be professional pictures taken of the volunteers, but the staff will try to take pictures of you throughout the day. Don't hesitate to ask the volunteer coordinator to take pictures of you! All these pics will be uploaded on the MUDGIRL Volunteers Facebook group
---
---